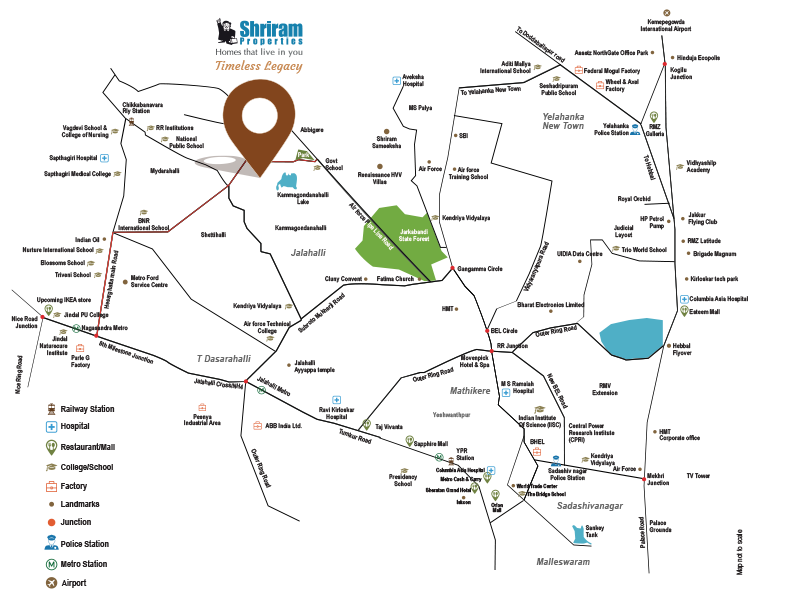 The Shriram Poem is established in Jalahalli, West Bangalore. The Shriram Poem is spread across 7.5 acres with 660 units. There are many amenities within society that you can relish with family and friends. The best part about the project's location is the connectivity with all the major roads. The Shriram Poem, West Bangalore, is a premium type of property where extensive lands are well-designed in a structured manner. The apartments are available in Jalahalli, West Bangalore. They also offer fulfilling luxuries to keep you happy, healthy, and relaxed in your everyday life. The destination is close to significant landmarks, making it an excellent place to live. So, book your home at Shriram Poem New Launch Jalahalli Bangalore today, as the property is upcoming at a fast pace, and the rate is expected to release soon.
Shriram Poem is located in the lush locales of West Bangalore in Jalahalli. The project is covered by scenic green covers and pleasant surroundings, bestowing a fresh lease of livelihood to the worthy inhabitants. The property is close to buzzing shopping complexes, employment Parks, industrial centers, educational hubs, and medical facilities. There are several amusement harbors and well-known eateries around the project. Jalahalli is a well-established real-estate hotspot that serves as the city's commercial and residential catchment. The location is situated in the western periphery of Bangalore. It is recognized for its employment hubs, IT Parks, and ideally-planned infrastructural frameworks. The area's natural verdant covers and iconic surroundings make it more ambient and comprised of residential settlements. Jalahalli has a strong presence in top-notch housing communities through leading real-estate companies featuring premium homes with world-class conveniences. These apartments provide an excellent platform for a modern lifestyle with easy access to employment hubs. The demand for homes is steadily rising in Jalahalli. The area offers multitudinous residence options to home-buyers, including 1,2,2.5,3 BHK homes.
Karnataka's capital metropolis, Bangalore, now called Bengaluru, is renowned for being the IT capital and residence of numerous start-up companies. Situated about 3,000 feet above sea level, the IT city of India attracts many people, all thanks to its delightful weather all year round and the countless prospects it offers. As more individuals set foot in the city, the need for dwellings has increased, and with that, the real estate market has seen a corresponding upgrade to cater to the demand. The location is high-speed development with numerous projects coming up in & around the area, central IT and manufacturing epicenters, and a 5 min drive from Tumkur Road. Jalahalli has a vibrant history beginning from the time the British left India. Before, Jalahalli was just a small hamlet of a handful of homes. The only notable piece in the area was the Air force Training Center founded by the British. After they left, the Indian Government founded many organizations around the Jalahalli area, like Bharat Electronics Limited, AKA BEL, Hindustan Machine Tools, Aka HMT, Air force, and ISRO. This brought more people to the tiny hamlet, which slowly became populated and expanded geographically.
But that is not why you should invest in residential properties in Jalahalli. Knowing a brief history of the place you are contemplating staying in is always lovely, and here's why investing in Jalahalli may be a good option for first and second-time buyers.
Clean and Greens: Jalahalli is one of the less crowded areas in Bangalore. It is also blessed with a green belt of coconut groves and eucalyptus farms because 25% of the area belongs to Bharat Electronic Limited and Hindustan Machine tools, who preserve the greenery of this place. The Jarkabandi State Forest also delivers a green blanket to the area. There are many dense green parks and expansive well, maintained roads.
Proximity to good schools: Renowned schools in Jalahalli are Kendriya Vidyalaya, Workforce school, Seventh Day Adventist School, Central School, and Cluny Convent School, among the prominent convent schools. Several upcoming international schools cater to many kids whose parents prefer a distinct approach to schooling. Such schools include Orchids International and Ryan International School. Popular pre-schools in the area are Poddar Jumbo kids and Kidzee. The options vary from the CBSE, ICSE, and Karnataka boards to IB and IGCSE.
Appreciating property rates: Research has shown that property prices in Jalahalli have gradually increased. This means that there is no hurried spike. A sudden rise in property rates always gives an upgrade to a price correction in the short term. Thus, it is a safe buying option for those looking to gain steadily and slowly from this investment. For second-time investors, projects in Jalahalli continue to give regular rent with a healthy boost every year.
Proximity to work: Areas like Kormangala, Whitefield, etc., are near inner roads and NH4. The State Transport links Jalahalli to important places with good frequency.
Entertainment close at hand: Can joy be long behind when all other aspects favor Jalahalli? Rockline mall, Move N Pick Hotel, and many other smaller recreation units dot the Jalahalli neighborhood. Jalahalli is the prime area for private industries and the most desirable housing address. The location has seamless connectivity with prominent localities like hebbal, outer ring road, and many other places and other parts of Bangalore too. Jalahalli is also excellent at the social infrastructure, such as schools, universities, reputed colleges, hospitals with good facilities, a shopping epicenter or entertainment space, and vital services nearby.
Prominent Schools in Jalahalli located nearby Shriram Poem:
Orchids International School
Unique Public School.
Sree Ayyappa Education Centre.
Rainbow International School and PU College.
Vidya Vihar International School.
Sunshine Public School.
Poorna Pragna Academy School.
St. Stephen's School.
Ashok International Public School.
Silver Spring International School
Pavitra Public School
Soundarya Central School
Vidya Public School
Royale Concorde International School
Edify School
National Public School
Little Millenium School
Mother Teresa Public School
Hospitals in Jalahalli located nearby Shriram Poem:
Sapthagiri Hospital
Rajalaxmi Hospital and Research Hospital
Aveksha Hospital.
Eskay Hospital
Prakriya Hospital.
Kethams Hospital.
Sparsh Hospital.
Nagappa Hadli Hospital.
NRR Hospital
Sri Tirumala Hospital.
Soukya Hospital.
Ravi Kirloskar Hospital.
Bangalore Baptist Hospital.
Kruthika Hospital
Eshwar Hospital
Medstar Hospital
Sri Venkateshwara Hospital
Tech Parks in Jalahalli located nearby Shriram Poem:
L&T Tech Park.
Global Tech Park
Manayata Tech Park
Bagmane Tech Park
Enzyme Tech Park
Kalyani Tech Park Private Limited
Mind Comp Tech Park
GVM Tech Park
International Tech Park Bangalore.
GR Tech Park.
Global Village Tech Park.
HM Tech Park
Bangalore is a prominent location for commercial and residential properties. We have seen a growing impact on real estate for many years. The privileged place of Bangalore gives rise to the evolution of commercial and residential properties as the metropolis promises to provide world-class infrastructural facilities. The economic activities in the city have offered ample scope for GDP growth in the realty sector. The areas in Bangalore are becoming very competitive in the realty market. Every place in Bangalore can provide luxurious conveniences for potential home-buyers.
Jalahalli is one of the eco-friendly locations in Bangalore. Jalahalli is located in Bangalore's west, and the locality is a well-developed site. The renowned Hindustan Machine Tools Limited and Bharat Electronics Limited are nearby Jalahalli. The area is home to various residential properties like Shriram Poem, Kumar Princetown Royale, Landmark Dreamz, and DS-MAX Splendor Nest. National Highway-44 is around 20 minutes from Jalahalli via Jalahalli Cross. Jalahalli Metro Station offers seamless connectivity to multiple parts of the city. BMTC buses provide easy travel to other parts of the city. Bangalore International Airport is only 30 mins from Jalahalli. Yeshwantpur Railway Junction can be reached within ten munites via Ramaiah Road from Jalahalli.
Jalahalli offers reasonable closeness to international schools like RD International School, Trio World Academy, Vyasa International School, and Orchids International School. The area is a preferred location for children and families. Famous hospitals like Kethams Hospital Private Limited, Shirdi Sai Hospital, and Ravi Kirloskar Memorial Hospital, are located nearby Jalahalli. Some malls like Rockline Mall, Esteem Mall, and Orion Mall are easily accessible within a 10-20 minutes drive from Jalahalli.
Ready to purchase an apartment at Shriram Poem?
Frequently Asked Questions
1.
What is the exact Shriram Poem address?
Shriram Poem is an upcoming futuristic pre-launch integrated apartment development in Jalahalli, West Bangalore.
2.
Which are the nearest landmarks close to Shriram Poem?