Residential Apartments in West Bangalore
Residential apartments in West Bangalore are highly sought after due to their strategic location and excellent connectivity. West Bangalore is a rapidly developing region with a mix of commercial and residential spaces, making it an ideal destination for homebuyers. The region offers a wide range of residential options, from affordable flats to luxurious villas, catering to the needs of people from all walks of life. One of the key advantages of residing in West Bangalore is its proximity to major IT hubs such as Electronic City, Whitefield, and Manyata Tech Park, making it a popular choice for working professionals. The region is well-connected to other parts of the city through the NICE Corridor and the Outer Ring Road, providing immediate access to the airport, railway station, and other important locations.
Residential apartments in West Bangalore are designed to provide a comfortable and convenient lifestyle, with modern amenities such as clubhouses, swimming pools, gyms, and landscaped gardens. The apartments are created with contemporary architecture and offer spacious living spaces, ample natural light, and ventilation. In addition to its strategic location, West Bangalore offers many amenities such as shopping malls, supermarkets, schools, hospitals, and entertainment centers, ensuring that residents can access all the necessary facilities within easy reach. Let's look into one of the best residential apartments in West Bangalore.
Shriram Poem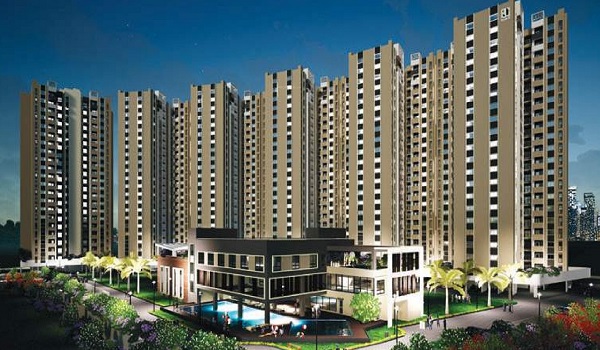 Shriram Poem is a premium gated community offering elegant and classy condominiums in Abbigere - Jalahalli Extn off the Tumkur Highway. Spread across 6.58 acres, the project comprises six towering blocks of G+18 and G+19 upper floors, offering 2BHK, 2.5BHK, and 3BHK condominiums with stylish interiors and Vastu compliance. The residences are designed to provide a peaceful living environment, with terraces on every alternate floor and 70% open spaces. The project overlooks the pristine waters of Kammgondahalli Lake, offering residents a mesmerizing view. The Poem offers over 30 world-class amenities such as a clubhouse, cricket net, pet park, yoga and meditation hall, jogging path, cycling track, senior citizen park, spa, open gym, and more, providing residents with a well-rounded and holistic lifestyle. The project comprises 660 units across six high-rise towers, with configurations ranging from 565 Sq Ft to 1255 Sq Ft.
Located in the most profitable residential locales of West Bangalore, The Poem offers easy connectivity to major IT hubs such as Electronic City, Whitefield, and Manyata Tech Park, making it an ideal choice for working professionals. The project is currently open for pre-launch bookings at attractive prices, and model plots will soon be available for homebuyers to understand and enjoy their living space. Shriram Poem is awaiting a RERA license, and once the license is granted, it will launch its project. The completion date for the project is a few years from its launch, and possession will start in March 2026. The residents will pay the maintenance costs and be supervised by Shriram Properties. The Poem by Shriram is an outstanding representation of the current structural plan combined with classic angles, providing homebuyers with a profitable investment opportunity.
Shriram Properties Blogs