Shriram Apartments in Bangalore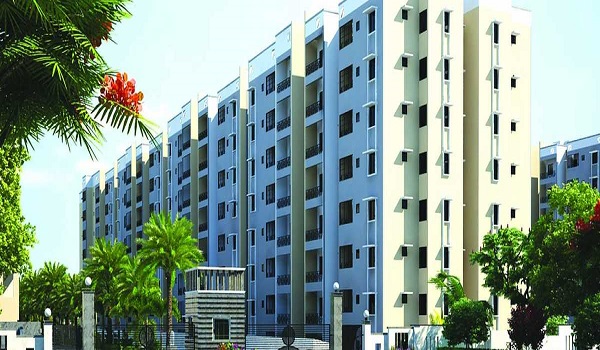 Shriram Properties, the real estate segment of the reputed Shriram Group, is a leading residential real estate developer in South India, focusing mainly on the mid-market and affordable housing categories. With operations commencing in Bangalore in 2000, the builder has a stronghold in the mid-market premium and luxury housing categories, commercial, office spaces, and plotted development categories. Recognitions and awards are bestowed on this ace developer for the numerous excellent projects it has been delivering, which are regularly surpassing the customers' expectations. There are multiple Shriram apartments in Bangalore that the realtor has been developing and are much preferred by home buyers today.
Shriram Poem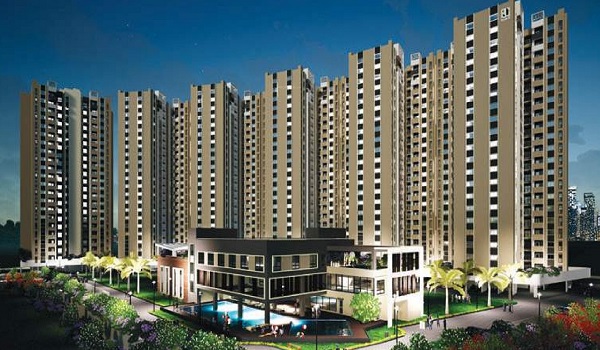 Shriram Poem by Shriram is another dwelling habitat where you can reminiscence your "heart's fondest memory" in this sprawling 7-acre premise with an old charm associated with the property. 2, 2.5, 3, and 3.5 bedroom set apartments are laid in Jalahalli, North Bangalore, an important high growth zone of the city. Homes set in towers planned in a C-shape, the dwellers from each residence of this property can view the breathtaking beauty of the area with patches of greenery and a water body, including the green retreat of the project confines. The location is also an advantage to the residents as they can access the necessities of livelihood and lifestyle here. Four metro stations are within 15 minutes distance, integral road networks within 20 minutes, Yeshwanthpur Railway Station is also within 20 minutes, KIAL is within 40 minutes, and IT parks and corporates are also nearby. 30+ select lifestyle amenities are available to pamper residents of all ages. Clubhouse, Swimming Pool, Gymnasium, Creche, Squash Court, Billiards Room, Multipurpose Hall, Cricket Pitch, Rock Garden, Volleyball Court, Tennis Court, Basketball Court, Skating Rink, Senior Citizens' Corner, Amphitheatre, Party Terrace, Themed Garden, Clinic and Health Club, Landscaped Gardens, Trampoline Park, Reading Lounge/ Library, Elders' Outdoor Gym, Jogging Track, Cycling Track, Children's Play Area, Zumba/Yoga/Dance Floor Gym, Reflexology Pathway, Pet Park, Indoor Badminton Court, Table Tennis Court are some of the amenities, facilities, and conveniences for the residents of the property. Shriram Poem has classy apartments carefully designed with exquisite features to add to the dwellers' privileges.
Shriram Chirping Grove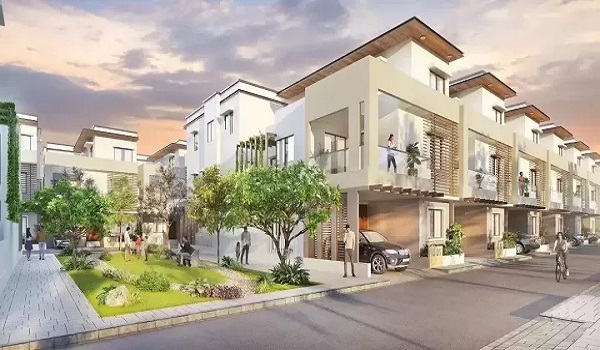 A posh residential enclave encompassing 217 independent row luxurious villas amid a delectable community, set in the very prominent Sarjapur, East Bangalore, is Shriram Chirping Grove for you! These boutique villas are set to offer an unsurpassed and exclusive lifestyle in the midst of tranquility, yet with access to all the livelihood and lifestyle needs in and around the vicinity. With just 10 minutes away from Azim Premji University, Elite Hospital, and Indus International School, 5 minutes from Town Hospital, 11 minutes from Infosys, and 33 minutes from Wipro, etc., you can avail yourself of some of the best avenues in all aspects. Leisure amenities, facilities, and conveniences are thoughtfully curated for the esteemed dwellers to ensure residents of all ages can enjoy a blissful dwelling experience. Multipurpose Hall with Badminton Court, Convenience Store, Creche, Pantry/Kitchen, Cafeteria, Gymnasium, Yoga/Aerobics/Zumba, Table Tennis, Foosball, Caroms, Billiards, Party Area, Swimming Pool, Reading Lounge, etc. is some of the amenities which the residents can enjoy independently, with family, friends, guests, and neighbours at their leisure time. Shriram Chirping Grove is an apt dwelling for those who prefer luxury, privacy, and serenity.
Shriram Blue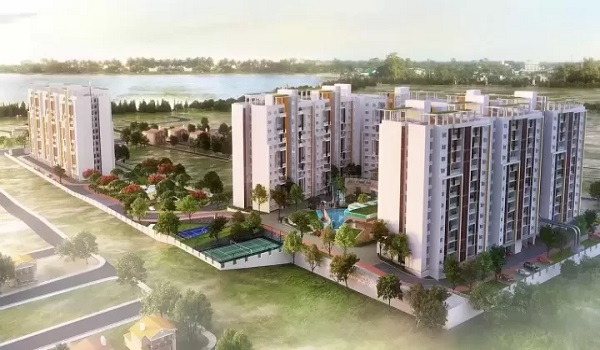 Another splendour from Shriram Properties with attractive features awaits discerning buyers. Shriram Blue is a resort-themed residential enclave spread across 8.59 acres at KR Puram, East Bangalore, with exquisite apartments in 2 and 3 bedroom sets. With this concept, dwellers can experience the ecstasy of weekdays and weekends alike. Located close to some of the biggest work hubs of the metropolis, Shriram Blue has the best of work and leisure at a reasonable price. Located just 15 minutes from Whitefield and near the prominent Hoodi Junction, Hoskote Road, Old Madras Road, and Phoenix Market City, the residents have every prerequisite for self-sustenance here. The amenities are also meticulously planned for the residents to enjoy their weekdays and weekends likewise. Green Roof Clubhouse, Barbeque Area, Swimming Pool, Amphitheatre, Dance Workshop Arena, Reading Lounge/Co-working Space, Squash Court, Poolside Cafe, Tropical and Aroma Gardens, Hammock Zones, Kids Adventure Zone, Sunrise Deck, Yoga Deck, Interactive Water Fountains, Central Landscape Area, Riparian Plantations are planned to spoil the residents of all ages. Shriram Blue is indeed an apt dwelling enclave for those who enjoy work-life balance.
Shriram Greenfield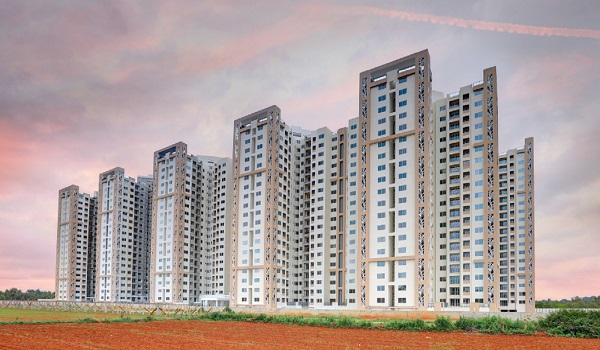 Best in class home in a mega township in the very promising North Bangalore, Budigere Cross, and from the reputed Shriram Properties is Shriram Greenfield for you. 2 bedroom set apartments with IGBC Gold rating and more than 76% green space will offer the residents a healthy lifestyle and savings every day with the standard and productive amenities the enclave offers. Tennis Court, Basketball Court, A Café, Multipurpose Hall, Multipurpose Lawn, Swimming Pool, Jogging Tracks, Volleyball Court, Cricket Practice Net, Gymnasium, Yoga, and Meditation Spaces, Indoor Badminton Court, World-class Healthcare, Spa and Sauna are some of the choicest amenities, conveniences, and facilities which are immaculately planned for this dwelling space. KR Puram, Whitefield, Kempegowda International Airport, the upcoming Peripheral Ring Road and Satellite Town Ring Road, Whitefield Tech Hub, North Bangalore Investment Hub, and Hoskote Industrial Hub are some of the key areas close to Shriram Greenfield. Prerequisites for daily, emergency, and luxury needs for the sustenance of a community are also easily accessible. Shriram Greenfield is a steal deal for those who enjoy a healthy lifestyle, where savings matter, and where work hubs are at a comfortable distance. Phase 1 of the property is already delivered, and phase 2 is selling out fast.
Shriram Properties Blogs